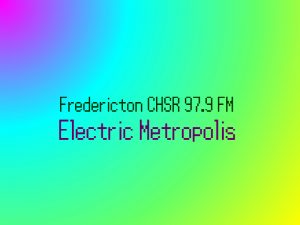 I am AD Springer, your musical tour guide to all things future funk, chiptune, synthpop, and other reach out and grab you music in the electronica sphere on The Electric Metropolis. Come tour the city of sound with me from around the world! On this tour you will enjoy a relaxing ride through the vaporwave, chiptune, and synthpop districts with a short stop at the best bar in all of cyberpunk. From France to the USA; from across Canada and all the way from Mexico; these artists will set your night aglow with neon.
Featuring songs from MACROSS 82-99's album SAILORWAVE; Dana Jean Pheonix's Synth City; and Cyanide Dansen's Zenzoo Pop and many others! This is the sort of music that will give you the sound of a city far ahead of us but not so distant we'll never see it. From chill music to short jogs of excitement, The Electric Metropolis is a city full of far more music than you can dream of.
As for me, even I don't know all that The Electric Metropolis hides away, but this tour and many others will show you and me sounds you likely haven't heard before or heard nearly enough of elsewhere. So come aboard, listen close, and enjoy the ride.
Tour Itinerary:
First Stop:
"Femme Fatale (feat. Highway Superstar)" by PERTURBATOR off the album The Uncanny Valley
Vaporwave District:
"she has minds like fire" by Princess Commodore 64 off the album The Death Of A Lifestyle as put out by: Lost Angles
"Tsukino UsagiSERENA" by MACROSS 82-99 off the album SAILORWAVE as put out by Neoncity Records
"Can You Face Your True Feelings?" by Anime Dream Project off the album As If I Met Her In A Dream…Or Something as put out by: Dan Mason
First Part of Chiptune District:
"Blue Level (Master A)" by Game Genie Sokolov
"Step In" by Cyanide Dansen off the album Zenzoo Pop
"Starboard City" by themnotyou off the album BotB One Hour Battles
Second Part of Chiptune District:
"Curse of the Heavens" by Kommissar off the album Cosmic Phantasm
"Lunar Maria" by Auxcide off the album Chiptunes = WIN: Volume 6 as put out by: Chiptunes = WIN
Third Part of Chiptune District:
New York Cheesecake by PROTODOME off the album BLUESHIFT as put out by: ubiktune
"But You're Still Hungry" by Marshall Art & Cory Johnson off the Timeline EP
Synthpop District:
"Never Stop (feat. Ollie Wride)" by FM-84
"Look To Your Heart" by Dana Jean Pheonix off the album Synth City
Final Stop:
"Your Love is a Drug ft. Adrianna Figureoa (insaneintherain arrange)" by Garoad off the album VA-11 HALL-A EX – Bonus Tracks Collection
Got any suggestions for future tours?
Tweet me @ElectricMetCHSR
or
Email me electricmetropolis [at] gmail [dot] com

Podcast: Play in new window | Download
Subscribe: Android | Google Podcasts | RSS