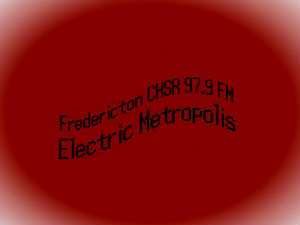 The worst assumption, our darkest fears, our unshakable waking nightmares: let those all burn away in the blazing and searing neon light of great music, deserving to be heard! This is The Electric Metropolis, I am AD Springer, your musical tour guide who happily shall show you about, around, and throughout this city of sound and beauty signifying everything great in the electronica sphere and beyond. Tonight hear the dreams, the hopes, and the awesome adventures awaiting over the next horizon! ((The Electric Metropolis Tourism Authority disclaims any hopes, dreams, or adventures occurring as a result of going on this Tour))
Tour Itinerary:
First Stop:
"kagayaki" by SEIUN
Club Electric:
"Spellbound By The Moon" by Ancient Boreal Forest off the album Cold Ethereal Winter
"Flashes" by Dear Rouge off the album Phases
"Replay" by Flashbot off the album Explore
Chiptune District:
"Lunaria (feat. Emily Yancey" by Danimal Cannon off the album Lunaria
"Needs Mo' Disco Whistle" by MCDJ off the album Oh Hey!
"Tachyon Beam Cannon" by Aquellex
Future Funk District:
"Feeling Like (feat. Popup!)" by Melonade off the album Melonade
"11:00PM [PRIVATE COLLECTION]" by Crystal Cola off the album L8 NITE TV
"Urban Flyer" by kissmenerdygirl x Matsura off the album Urban Flyer
VGM District:
"CrossCounter!" by Deniz Akbulut off the CrossCode (Original Game Soundtrack)
"Babies, Kittens, and Bad Decisions" by Random-storykeeper off the Daycare Dilemma OST
"Battle of Isa (Battle Theme)" by Dead Genre Studios off the Of Songs And Men (The Daybreak Empire Original Soundtrack)
Final Stop:
"Could It Be You" by Flittzy off the album Enigma
Got any suggestions for future tours?

Podcast: Play in new window | Download
Subscribe: Android | Google Podcasts | RSS | More