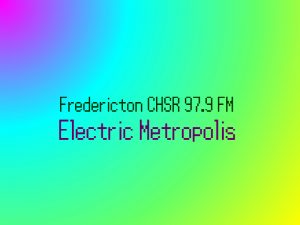 Dreaming forward into a future ever falling toward us: We not only dream of what it looks like but what it sounds like. So, welcome to the soundscape dream of The Electric Metropolis! I am AD Springer, your musical tour guide to the electronica city of music from the future so many have dreamed and dream of. Come with me, listen close, and dream along with me.
Tour Itinerary:
First Stop:
"BABY" by Seth Nova
Club Electric:
"Cut Me Out" by PAPAL VISIT off the album The Heaviness/Cut Me Out
"Silent Screams" by Icicle off the album Silence
"Iron Fist" by Dana Jean Phoenix off the album PixelDust
Chiptune District:
"Needs Mo' Disco Whistle" by MCDJ off the album Oh Hey!
"Tense Max Beam" by chibi-tech off the album The Mutual Promise
"DMA 1 SOUND CARD 8-BIT" by MASTER BOOT RECORD off the album Direct Memory Access
Future Funk District:
"Flashy Nights" by Sparkly Night off the album Beaches
"Hypnotic Moon" by kissmenerdygirl
"Talatadam (dansu)*" by Skyler off the album CTRL+C/CTRL+V VOL.3
VGM District:
"Not Mega…" by virt off the Retro City Rampage Original Soundtrack
"Level 1 Theme" by Dog Folder off the City Death Kill OST
"Duel (Boss)" by Dale North off the album Wizard of Legend Original Soundtrack
Final Stop:
"start.menu." by white vhs off the album flora.
Got any suggestions for future tours?

Podcast: Play in new window | Download
Subscribe: Android | Google Podcasts | RSS