A book club… on the radio? Readful Things is returning this fall!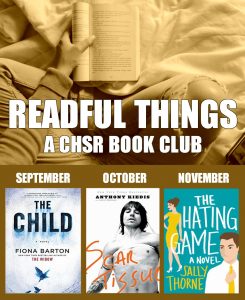 There's a certain magic involved when it comes to getting lost in a good book. They can take you to a whole new world, introduce you to new friends, some of whom you'll keep with you for the rest of your life.

Readful Things is a book club made up of a diverse group of people who love reading. Made up of varying members each month, we get together to discuss a different book each episode over snacks and a beverage. 😉
Our fall reading list includes:
Fiona Barton's "The Child" (September)
Anthony Kiedis' "Scar Tissue" (October)
Sally Thorne's "The Hating Game" (November)
Note: there's no book for December because of the holidays, but the winter reading list will be posted by then! We're always open to suggestions.
We're always looking for more members so feel free to get your friends involved, too! It's a great way to escape everyday life and perhaps read things you wouldn't have otherwise. Contact Readful Things and get involved!