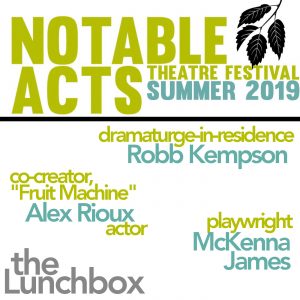 Theatre creates a make-believe space in which we can display the real world, and can compress all of time down to a single instance.
My guests today are all involved in this year's Notable Acts Theatre Festival. Robb Kempson is the artist-in-residence dramaturge for this year's festival, and has worked with all the plays and playwrights to polish and shape their works. Alex Rioux is the co-creator of Fruit Machine, a physical play presenting the questionable practices of the RCMP that targeted the LGBT+ community in the 50s and 60s, and is also acting in the play Gullywump by Greg Everett. McKenna James is a young playwright, currently enrolled in the drama program at UNB, and has a 10-minute play in this year's festival called The Year Where No One Dies.
The Notable Acts Theatre Festival begins on July 23 with the preview pay-what-you-will performance of Fruit Machine at the Black Box Theatre at St Thomas University at 7:30pm. Prior to the performance at 6:30pm and in the same space, there will be a panel discussion entitled 'Bringing Queer History to Light'. The festival continues until August 3. See the full schedule on their website.

Podcast: Play in new window | Download
Subscribe: Android | Google Podcasts | RSS