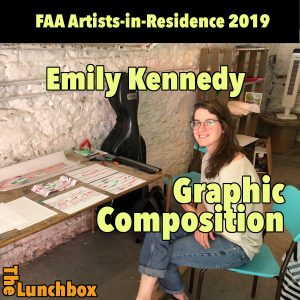 Music is the distilled experience of the real, transformed from the literal to the figurative to the imaginative.
During the summer, the Fredericton Arts Alliance brings a pair of artists together in the Barracks to practice their art for all to see. These artists come from a wide variety of disciplines, from painting and sculpture to basket-weaving and writing. As each pair of artists comes in, we'll be talking to them on the Lunchbox.
My guest today is Emily Kennedy, a local cellist and composer and member of numerous classical, avant guarde and pop groups. While she has been spending a lot of time lately performing, her time in the Barracks is being spent using graphic notation to compose a piece to be played by a group of improvisors. Her inspiration in this the patterns found in a plank of wood, tying the work to the general theme of trees which is this year's challenge to the artists in residence. She discusses how she is planning this interpretation, and the importance of seeking inspiration and serendipity in musical art.

Podcast: Play in new window | Download
Subscribe: Android | Google Podcasts | RSS