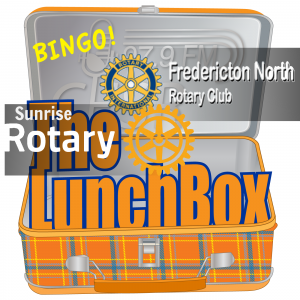 There are lots of great community organizations in Fredericton, working to improve conditions for those in need, to provide funds and spaces for the community to celebrate, meet and interact. I had the pleasure of talking to two representatives of some very active community-minded groups, the Rotary Clubs.
Harry Bohnsack of the Fredericton Sunrise Rotary Club and Terry McDonald of the Northside Rotary Club joined me to celebrate some of the great works they have been able to do so far, including the Lodge at Killarney Lake, and to talk about one of the great fundraising and prize-giving activities: Bingo!
CHSR has been simulcasting the Bingo from both clubs since May. Join in on Tuesday or Thursday nights to play along!

Podcast: Play in new window | Download
Subscribe: Google Podcasts | RSS