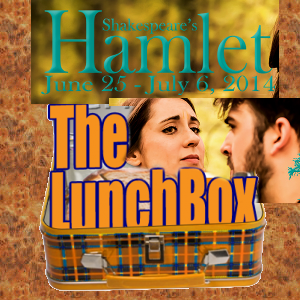 I can't help it: I love live theatre.
Truth be told, I probably love all forms of storytelling, but live theatre is truly magical. Movies try to be exact in their representation, where the written word is evocative. In the middle is live theatre, where there is some precise and immediate representation, but once caught up in the story, the world comes alive, the people transform into their characters, the rest of the world fades away to insignificance.
Now imagine doing that outdoors, and surrounding your audience with a landscape on which actors move in every dimension.
That's my experience with Bard In The Barracks, the local theatre company which has for several years transformed works of the immortal English Bard, William Shakespeare, into a whole new experience.
Not ones to rest on their laurels, they are at it again, this time taking the brooding and tragic Hamlet and recasting it amongst a travelling band of itinerant workers. I had the chance to talk with Len Falkenstein (director/writer/artist director), Jacob Martin (actor/Hamlet) and John Ball (actor/Polonius) and discuss the challenges and appeals to performing one of the best known Shakespearean plays, the ideas of how they have transformed and interpreted the work, as well as hear the actors run through one of the scenes as a teaser.
Bard In The Barracks' production of Hamlet opens July 25 and runs until July 6, nestled in Odell Park. Be sure to arrive early, and try to bring something comfortable to sit on the ground with.

Podcast: Play in new window | Download
Subscribe: Android | Google Podcasts | RSS