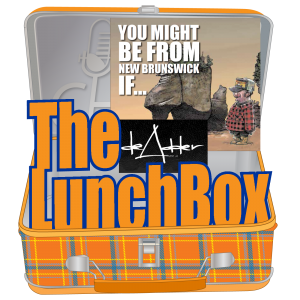 We all search for identity, but most of us can't really put it into words — or pictures. Instead, we "know it when we see it."
New Brunswick is, I think, particularly hard to describe. Every time I think I've gotten it, I've left out something, or the shade of something else isn't entirely right.
That's why I like books like "You Might Be A New Brunswicker If…". They help me get a handle on something I've known my entire life, and they are articulated in a way I can't manage.
I had a great conversation with Michael de Adder, editorial cartoonist and author of this new book. We talked about where these stories come from, how he crafts his art, and what he looked to include in the book.
Contest! Want a copy of Michael's book? We have 2 to give away? Just comment (either here, or on Twitter or Facebook) and tell us: what helps you define what a New Brunswicker is? Include the hashtag #FromNB on either of those other social media.)
I aim to give away the books this Friday if I have enough entries, but if I don't have as many as I like, I may hold the contest over until the following Friday.

Podcast: Play in new window | Download
Subscribe: Google Podcasts | RSS