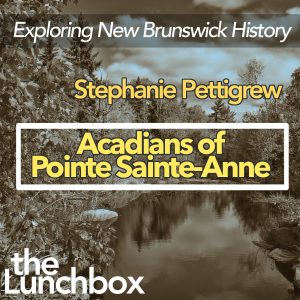 Before this city was named Frederick's Town, it was known at Pointe-Sainte-Anne, but it's a history that isn't often explored.
My guest today is Stephanie Pettigrew, the Research Director of a new exhibit at the Fredericton Region Museum focusing on the Acadian residents of Pointe-Sainte-Anne. In particular, Stephanie tells us about the discovery of a personal family connection to a prominent local Acadian farmer and intermediary.
How much do you think you know about New Brunswick history? Personally, I think we do a pretty bad job of teaching it, and most people don't embrace it. I'm on a mission to learn more, so I've invited a collection of historians to help me learn more about the legacies, the achievements, the battles, the inventions, the troublesome eras and the long past of one of Canada's oldest regions.

Podcast: Play in new window | Download
Subscribe: Google Podcasts | RSS | More