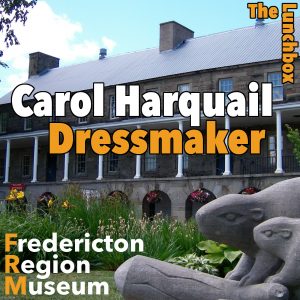 Art has the potential to encapsulate entire lifetimes in a single image, drawn from single moments imagined and expanded, composed out of strips of deconstructed cloth.
During the summer, the Fredericton Region Museum invites artists to work and demonstrate their art to visitors of the museum, bringing history to life. You're encouraged to visit the museum for its slice of New Brunswick history, and then plan to spend time talking with the artists, just as we do on the Lunchbox.
My guest today is Carol Harquail, a native fibre artist who uses her skills with sewing and cloth to carry on a tradition of making clothing with meaning. She making (and helping others make) dresses steeped in tradition, from the healing jingle dresses to the updated traditional ribbon skirts. She tells me a bit about how the journey through dressmaking has helped her uncover traditions and cultural beliefs of her peoples, and how she expresses them through her creations.

Podcast: Play in new window | Download
Subscribe: Android | Google Podcasts | RSS