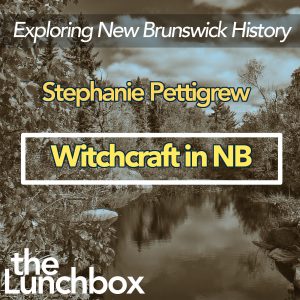 In darker times, superstition and suspicion overcame good judgement and understanding, but one doesn't have to look all the way to Salem, Massachusetts to find it. 
My guest today is Stephanie Pettigrew, a PhD student in UNB's History department whose dissertation focuses on witchcraft and blasphemy in seventeenth century Montreal. She joins us to tell us about the history of witches in New Brunswick.
Stephanie has an upcoming talking on October 27 entitled "Jean Campagnard: New Brunswick's seventeenth-century witchcraft trial".
How much do you think you know about New Brunswick history? Personally, I think we do a pretty bad job of teaching it, and most people don't embrace it. I'm on a mission to learn more, so I've invited a collection of historians to help me learn more about the legacies, the achievements, the battles, the inventions, the troublesome eras and the long past of one of Canada's oldest regions.

Podcast: Play in new window | Download
Subscribe: Android | Google Podcasts | RSS | More