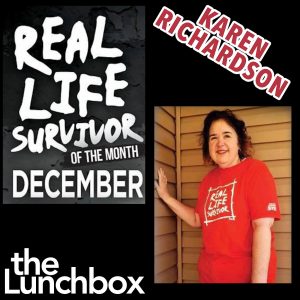 For December, Julie Comeau and Mark spoke to Karen Richardson, a woman from Texas who was diagnosed with a rare skin condition called Jessners Benign, which is brought on because of her fight against Lupus.
Karens' condition brings on daily struggles with very red skin, tiredness and weakness.
Karen is also a Real Life Survivor of anxiety and depression, and battles with weight loss and weight gain in her daily life. She also, at a young age, faces the journey of a widow.
Each month, RealLifeSurvivor profiles a person who has gone through trauma and difficulty and emerged on the other side stronger and with a fuller appreciation of life.

Podcast: Play in new window | Download
Subscribe: Google Podcasts | RSS | More