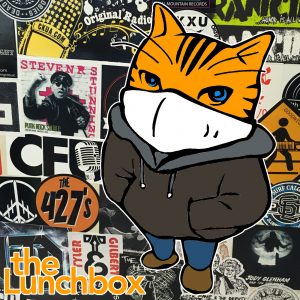 On today's show:
It's Honesty Day! Tell the truth, and accept the truth. Just don't hug it out right now..
It's Oatmeal Cookie Day! I expect many of you to make cookies today. Now I want to, too.
It's Poem in Your Pocket Day! Find the verse that speaks to you, and write it out yourself.
Lainie B from Monday night's B Street brings us another Positive Songs For Pandemics. This week, it's Joel Plaskett's turn to cheer us up.
Bondo Picked Matt Boudreau in 2018 (800 km). Still a good choice.
The Living Rooms Concerts continue this Sunday, with Soul Filter, Dwayne Doucette, Evan LeBlanc, Katherine Moller, Jena Gogo, TWIN, Lucas Chiasson, Keegan Dobbelsteyn, Daniel Champagne and Carolyna Lovely. Starts at 4pm on Sunday at the Facebook pages of Roots & Soul Promotions, The East, The Cap and Grimross Brewing.
#NBatHome Concerts Begin this week!
You can't go out to see live music, so we are bringing live music to you! In these times of physical distancing and social solidarity, discover (or re-discover) some amazing New Brunswick artists. From their living rooms to yours! #NBatHOMEThe project is possible thanks to the New Brunswick Tourism, Heritage and Culture Department.
Live Performances // Performance en direct –
1/05- An Acoustic Sin (7pm/19h) & Hard Charger (8pm/20h)
3/05- The Hypochondriacs (3pm/15h) & Laurie LeBlanc Page officielle (4pm/16h)
6/05- Kendra Gale Band (6pm/18h)
8/05- Émilie Landry (7pm/19h)
8/05- M3D14 (9pm/21h)
8/05- ZAFARI (10pm/22h)
8/05- DJ Mademoizelle
(Atlantic Time // Heure de l'Atlantique)See the Facebook event for more details.
Alone Together: a self-directed artist residency


The New Brunswick College of Craft and Design (NBCCD)'s Residency program is adapting to the new climate of self-isolation, and has pivoted its direction to be a home-based residency. In the face of the Covid-19 pandemic, the program has moved to a virtual platform, forming community through online communication paired with at-home creation. Alone Together Residency draws on supportive planning and motivational tools that invite artists to embrace creativity, with whatever capacity is possible for them.

The whole world is on pause. This is an opportunity to channel the reflecting, worrying, critical thinking, reading and dreaming you have been doing at home into bits of creativity and creation. Artists are invited to do as much or as little as suits their current situation.For more information on how to become involved, visit: https://nbccd.ca/alone-together-residency

Free online crisis training for essential workers


The Mental Health Commission of Canada has developed three crisis response training programs for essential workers: Caring for Yourself, Caring for your Team, and Caring for Others. Registration for these courses will be on a first-come, first-serve basis and will be available at no-cost for essential workers as defined by the Government of Canada

here

.



Overview of courses


Crisis Response training – Caring for Yourself




Crisis Response training – Caring for your Team




Crisis Response Training – Caring for Others

NB Government promoting the 30-Day Mindfulness Challenge


Starting today, New Brunswickers can sign up for the 30-Day Mindfulness Challenge. This free, bilingual website offers a collection of resources dedicated to teaching New Brunswickers about mindfulness in action. Begin your mindfulness journey today:

https://app.mindwellu.com/newbrunswick

Public Health is strongly recommending that the public wear non medical masks

, also referred to as community face masks, when out in the community when physical distancing is challenging.



Wearing a face mask can be a way of covering your mouth and nose to prevent respiratory droplets from contaminating others or landing on surfaces. For more information on wearing or making masks please visit: https://bit.ly/3cQWq4X
(Essay) Just a thought: Farmers, Gardeners and Temporary Work
Interview: Cathy Holtmann, PhotoVoice (2018)
COVID-19 Update:
The province announced no new cases of COVID-19 for the eleventh day in a row yesterday.

This announcement leaves the total number of cases at 118.

114 people have recovered from the virus, leaving four active cases and only one person in hospital.

Dr. Jennifer Russell said this fight is far from over and as long as there are cases in other provinces, New Brunswick will have to stay vigilant. 

Premier Higgs said the province is looking at ways to have post-secondary students and high school graduates take on jobs normally filled by temporary foreign workers this summer. 

The Prime Minister's $9 billion plan for students was approved by the House of Commons. More details will come out this afternoon.

Podcast: Play in new window | Download
Subscribe: Android | Google Podcasts | RSS