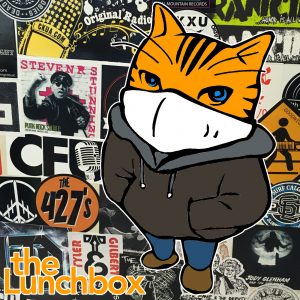 On today's show:
CHSR has joined forces with The Cap and numerous local bands to produce Postponed: The Mixtape. For today only, this album will help raise money for the station, the venue and the artists. Pay What You Can, Give Generously, Share The Facebook Post Widely.
It's May 1st, which means the new season has officially begun in the pagan world! Today is Beltaine, or if you are in the southern hemisphere, Samhain.
Recognize the hard work (or currently, lack of work…) for school-related jobs, as it is both School Bus Drivers' Day and School Principals' Day.
Stare lovingly into the sky tonight, as it is Space Day.
Stare lovingly at your new front door, as it also New Home Owners' Day.
And you are at home anyway, so why pants? Celebrate No Pants Day, and sing along to TWRP's No Pants Dance at the end of the show today.
Because May is Mental Health Month, I revisited an interview I did with Steve, Keith and Rick in 2017 about their struggles, hopes and survival of mental health issues.
We also flashback to 2018 and the release of Brookside Mall's debut album, from with Bondo picked Joan.
There are two (local-ish) concert series to consider today:

The #NBatHome Concert Series runs this week! You can't go out to see live music, so we are bringing live music to you! In these times of physical distancing and social solidarity, discover (or re-discover) some amazing New Brunswick artists. From their living rooms to yours! #NBatHOMELive Performances
1/05- An Acoustic Sin (7pm/19h) & Hard Charger (8pm/20h)
3/05- The Hypochondriacs (3pm/15h) & Laurie LeBlanc Page officielle (4pm/16h)
6/05- Kendra Gale Band (6pm/18h)
8/05- Émilie Landry (7pm/19h)
8/05- M3D14 (9pm/21h)
8/05- ZAFARI (10pm/22h)
8/05- DJ Mademoizelle
(Atlantic Time // Heure de l'Atlantique)
The Living Rooms Concert Series continues this Sunday starting at 4pm, with several acts streaming live on the Facebook pages of Roots & Soul Music Promotions, The East, The Capital Complex and Grimross Brewing Company. This week: Soul Filter (PEI), Dwayne Doucette of Earthbound (NB), Evan LeBlanc (NB), Katherine Moller (NB), Jena Gogo of Blue Sky Miners (ON), TWIN (MB), Lucas Chaisson (AB), Keegan Dobbelsteyn (NB), Daniel Champagne (AUS), Carolyna Lovely (AUS)
COVID-19 Update [6:38]
The province announced no new cases of COVID-19 for the twelfth day in a row yesterday.

This announcement leaves the total number of cases at 118.

114 people have recovered from the virus, leaving four active cases and nobody in hospital.

Dr. Jennifer Russell said this fight is far from over and as long as there are cases in other provinces, New Brunswick will have to stay vigilant. 

Premier Higgs said the province is looking at ways to have post-secondary students and high school graduates take on jobs normally filled by temporary foreign workers this summer. 

The Prime Minister joined defense ministers yesterday to offer condolences to Canadians after a helicopter belonging to the armed forces went down off the Ionian Sea.

Podcast: Play in new window | Download
Subscribe: Google Podcasts | RSS