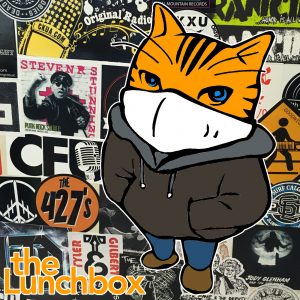 On today's show:
Today is Password Day. Change your password today — and make it a good one!
Feeling fancy? It's Roast Leg of Lamb Day. You're welcome.
The Ville's Free Stitch-n-Bitch Online Drop-In


Every Friday at 10am-11am



Lainie B of Monday night's B Street is back with another Positive Songs For Pandemics: The New Pornographers with Falling Down The Stairs Of Your Smile.
Interview: revisiting Michael de Adder again today; this time on the occasion of his book of political cartoons called You Might Be From Canada If… (2017)
Interview: I spoke with Fredericton's Meals On Wheels back in 2017 on their 50th Anniversary — and they are still working hard (harder than ever!) helping folks in your community.
COVID-19 Update:
The province announced one new case of COVID-19 yesterday afternoon, an individual in their 20s from the Saint John region. 

This brings New Brunswick's total number of cases to 119.

Dr. Jennifer Russell told residents this is not a surprise and we must be prepared for more cases and take care to protect the vulnerable population. 

Premier Higgs said residents are only a few days away from learning about the province's "new normal." He said businesses should be prepared to reopen with public health protocols. 

Education minister Dominic Cardy announced his department will invest $860,000 to give students access to technology for online learning. This includes 1,000 iPad's, 500 laptops and 300 Mi-Fi internet hubs. 

The money comes out of the education department's budget for maintenance and fueling school buses. 

Podcast: Play in new window | Download
Subscribe: Android | Google Podcasts | RSS