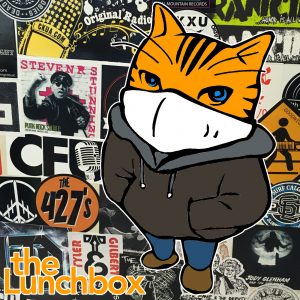 In this show:
Today is Hug Your Cat Day and Corgi Day. It's also Old Maid Day. I don't think those are necessarily related, but some folks might be able to triple down today.. Lucky!
Tomorrow is World Environment Day. Don't just hug a tree: plant one! Or clean up around one. Or figure out how you can prevent us from polluting our only planet..
It was on this date in 1726 that the 1725 Treaty of Peace and Friendship was ratified by the Mi'kmaq, Maliseet, Passamaquoddy and Penobscot Nations – re-affirming Wabanahki hunting, fishing and planting grounds.
The Roots and Soul Artist Takeover this Thursday night is Old Man Grant.  They'll be taking over the page all day from beautiful BC.
This weekend's Living Rooms Concert Series continues on June 7 at 5:30pm with Sarah Kierstead, Old Man Grant, Krista Shannon, and Joshua Bravener of The Hypochondriacs.
Today, I celebrate music heartily, with a revisit with my 2016 interview with Jesse Brown and my 2015 interview of Merrideth the Stage Manager of the Voodoo House Stage at Harvest Jazz & Blues.
This week's Positive Songs For Pandemics from Lainie B is Valerie June. Also music featured from Kiwi Jr and Jesse Brown.
News:
New Brunswick had its first COVID-19 related death early this morning in Campbellton.

One man is dead after a house fire on Grand Manan.

The federal government is securing 37 million syringes to stay prepared for when researchers find a coronavirus vaccine.

The Fredericton Redwings will welcome four new players to its team.

More charges are being laid in last week's death of Minneapolis man George Floyd.

The deadline for your 2019 income tax return is this Monday, June 8. 

A local member of parliament is advocating towards better internet speeds for rural New Brunswickers.

The Boyce Farmers Market is releasing more details about its gradual reopening.

And today marks the sixth anniversary of the Moncton tragedy, where three RCMP members lost their lives during a 28-hour search.

Podcast: Play in new window | Download
Subscribe: Android | Google Podcasts | RSS