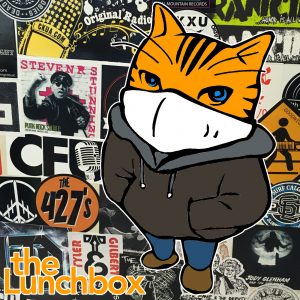 On the show:
Its Repeat Day. Be sure to be on the watch for bad routines you need to break out of, or good habits you need to reinforce.
I spoke with Carol Harquil in the summer of 2019 at the Fredericton Region Museum about her ongoing residency, where she practices traditional and modern Native Dressmaking.
Mary Louise Macarthy and Jennifer Dow helped kick of my exploration of local history last fall with a discussion of Black History in NB.
This summer will be missing one of the newest gathering spots: the Garrison Night Market has announced its decision to suspend operations for 2020. "… the night market's popularity as a community gathering spot necessitates this temporary closure. … those people who have come to the market over the past 2 years 

and know how tremendously successful and crowded it has been will understand that the risk is simply too great. On a good night we've seen upwards of 6-8,000

people."

On a happier note, the Boyce Farmers Market is set to re-open this weekend, albeit with limited capacity and respectful, safety-related requirements. "

The only entrance will be 665 George Street, where a washroom will be dedicated to handwashing and staff will direct shoppers to follow one-way directional signage. All vendors will wear community facemasks, and customers are strongly encouraged to do so as well. Additional staff will be on hand to ensure washrooms, doors and other high-touch surfaces are sanitized regularly. 

Eighty shoppers will be allowed in the market buildings at one time. Social distancing measures require vendors be spaced throughout the market, and businesses therefore may not be in their usual stall. "



A number of outdoor recreation areas are set to re-open under the second phase of recovery. Getting outside and getting exercise will do many of us a lot of good!
News update:
New Brunswick Public Health reported one new case of COVID-19 yesterday.

Over 500 people took to the streets of downtown Fredericton yesterday afternoon to show support for a Black Lives Matter rally.

The Codiac RCMP says a 47-year-old man from Moncton is facing assault and hate charges after an incident Monday.

A judge from Miramichi has charged 21-year-old Ethen Harnish with first-degree murder after the death of Brandon Martin.

The City of Fredericton says its final design for the new all-wheel sports plaza is receiving rave reviews.

A 47-year-old man was arrested near Bathurst after operating a vehicle under the influence.

The remains of a 64-year-old man were found in Chaleur Bay near Petit-Rocher-Nord on Saturday.

The doctor who brought COVID-19 to Campbellton went public yesterday in his first interview since the region's outbreak.

Podcast: Play in new window | Download
Subscribe: Android | Google Podcasts | RSS