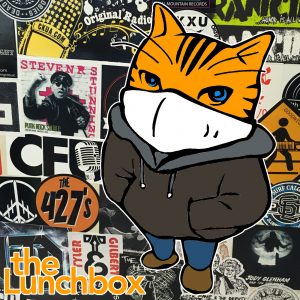 On the show:
Monday was Best Friends Day and World Oceans Day. Did you call a friend and stare lovingly at a photo of an ocean? Or at least eat seafood?
Monday also turned into My Black Ram day: I played Bondo's pick of Another Lover, the interview I did with Peter and Jon from the band, and then a full version of Lost That Feeling. You can pick their album up online, or visit The Cap, or find them on Facebook and maybe still get home delivery.
I also revisited the most recent Real Life Survivor story, in which Julie and I spoke to Karen Richardson.
Good news! Fredericton's Canada Day Committee is determined to have our summer celebration after all! They are planning a live stream of music all day, as well as a competition to decorate your home for the holiday.
Design Works Wednesdays will continue. This week, the new host (Jody McCleary) took over the new format and recorded a video on Picasso Pet Paintings.
The Digital Tertulias continue this week with Daniel Tubb on Gabriel Garcia Márquez. This will be live on Wednesday night at 7pm. This is the last scheduled tertulia so far.
To honour the memory and call for justice in the case of Chantal Moore, there will be a Healing Walk in numerous places across the province this weekend. In Fredericton, the event will start at 1pm starting at City Hall. Be sure to observe the necessary pandemic safety requirements as well as the protocols they have established to show your support properly and with respect.
News update:
The province announced one new case of COVID-19 over the weekend.

The family of Chantel Moore is looking for answers to her sudden death last week.

National RCMP commissioner Brenda Lucki says there is no room for racism in Canada's RCMP.

St. Thomas University has cut ties with the local company responsible for making its grad rings.

Police in Bathurst has charged a 34-year-old man with attempted murder.

Codiac RCMP is asking for help in locating a missing 15-year-old boy from Moncton.

Fredericton emergency crews were busy over the weekend in the wake of a massive storm Friday evening. 

The Dooly's on Queen Street has been closed after reports of a customer who failed to self-isolate after travelling to Quebec.

Podcast: Play in new window | Download
Subscribe: Android | Google Podcasts | RSS