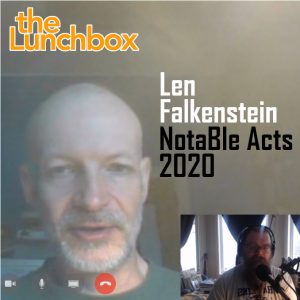 On today's show:
Today is Sugar Cookie Day. It… doesn't seem as inspiring as most days, so let's remember that this is also Plastic Free July, ok?
Very happy to get back into the habit of talking to people again! Yesterday, I caught up with Len Falkenstein about the NotaBle Acts 2020 Theatre Festival, which starts on July 23. We talked about the evolving challenges in putting together an event in the midst of a pandemic, and some of the exciting plays you'll get a chance to experience, both in person, and virtually.
I also included a brief conversation I had with Old Man Leudecke just before his performance at Harvest Jazz & Blues 2015, and couldn't resist but include the fun, hopeful Joy of Cooking from his 2006 album.
Lainie B from Monday night's B Street joins us again for another segment of Positive Songs For Pandemics to present Nada Surf's So Much Love.
The Mellow Yellow Concert Series at The Tipsy Muse Cafe continues to expand! This week, we've got Mike Biggar on Friday night at 7pm and Connor Fox on Saturday night at 7pm. Remember that tickets are $15, but they must be bought in bundles of 2-4, and social distancing will be in effect.
Certified returns to Dolan's Pub this Thursday, Friday and Saturday nights at 10pm.
Peter Hansen and Andrew Kenney will be playing at Charlotte Street Arts Centre at 7pm on Thursday night. Tickets are $15 at the door and limited, so arrive early!
News updates:
Irving Oil announced yesterday it would layoff 250 employees due to the COVID-19 pandemic.

New Brunswick Public Health reported no new cases of COVID-19 yesterday afternoon.

The doctor accused of bringing COVID-19 to zone five won't face criminal charges, according to his lawyer.

Four people were taken to hospital with serious injuries after a collision on Highway 7.

Drivers are paying a bit more at the pumps after the Energy and Utilities Board reset its pricing overnight.

A man from Saint-Louis-de-Kent is facing charges after an armed robbery in Bouctouche last week.

The kettle is boiling after DavidsTea announced it filed for creditor protection and expects to close many of its stores to shift to online sales.

And Finance Minister Bill Morneau expects Canada's deficit to hit $343 billion this year.

Podcast: Play in new window | Download
Subscribe: Android | Google Podcasts | RSS