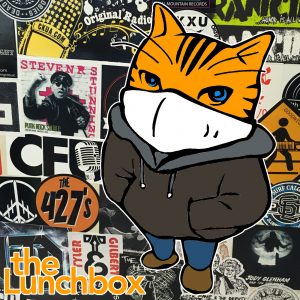 On today's show:
Today is World Emoji Day and Tattoo Day, so you should probably be careful, or you'll end up with a poop emoji permanently etched in skin…
It's also the birthday of Living Roots Festival guru Eddie Young, and he chose today to announce the return of the festival starting on August 13. See the poster for full details.
It's also the birth of Johnny James! Johnny's been a host of a number of shows on CHSR, and we look forward to him returning this fall.
The Pride NB Drag Extravaganza is scheduled for this evening at 8pm until 11pm.
Join themn online for a free Drag Extravaganza which will showcase a fabulous cast of performers sharing both looks and lipsyncs. Our live host, correspondents, and judges will ensure there's never a dull moment and at the end of the night, we'll crown the first-ever Pride NB Mx. Lipsync and Mx. Look!Red Carpet Pre-Show @ 8 PM
Main Stage @ 9 PM
Don't forget that it's Christmas in July! Visit the Delta Drive-In this week to see "National Lampoon's Christmas Vacation" on July 17 and July 18).
Shameless are set to take the stage at Dolan's Pub on Thursday, Friday and Saturday night.
On Friday afternoon, take in great food outdoors with Fredericton Al Fresco and catch Peter Hicks (of Sleepy Driver)!
Tortoise, The Hare & The Millionaire had to miss the last time they were up to play, but they are back this Friday at 7pm at The Tipsy Muse Café for the Mellow Yellow Concert Series. See the Facebook event for more details.
As you heard yesterday, Sleepy Driver is releasing its new album today, Sleepy Driver presents Northeastern Chorus. Also: Neighbourhood Watch is also releasing their self-titled album today, and there's a streaming concert from Maniac Mansion tonight at 9pm! And tune in to the Mansion tomorrow for a Motherhood concert, too!.
The Midway rides are back! East Coast Amusements has rented space at the New Brunswick Provincial Exhibition.  ECA is following all COVID-19 protocols and has been approved by the province. Without a source of income ECA could potentially go out of business leaving the NBEX without rides for future fairs and exhibitions. During this time it is important to support businesses within your province to help the economy. We suggest to all that only those who feel comfortable come and enjoy the rides. Hours are 

Friday July 17th 12pm – Close; 

Saturday July 18th 12pm – Close; 

Sunday July 19th 12pm – Close; 

July 23-26 Hours to be determined.

No Masks – Enough is Enough protest


On Sunday at 3pm, people are asked to go to Wilmot Park to March to the Legislative Assembly, calling for the end of masks. I urge you to go — and wear a mask, and protest against the foolhardiness that puts minimal personal comfort over maximal public safety and health.





Why wear a seatbelt? Aren't casts terribly inconvenient? Why have an emergency exit? We've been lucky, we've been diligent, we've taken precautions — and yet there are outbreaks, due to human error or bad luck. The virus isn't even half-way done with the world yet. Have patience — or become the next patients. Be careful — or you become careless. Take a little discomfort to prevent discomfort, illness, permanent damage or even death. No one likes wearing masks, but by wearing them now, you won't be wearing them forever.





Wishing the virus away doesn't work. Wearing masks, the very least you can do to save everyone else, helps. Not gathering in groups, being aware of your own symptoms, supporting the organizations and researchers and health professionals and leaders who are working to find a vaccine and find therapeutic treatments, that's what you can do.





But protesting about being uncomfortable supporting even the least you can do? You look childish and selfish. You look manipulated and unfeeling. You look vulnerable and ignorant.





Hide all that — with a mask.

Today, we enjoy my chat yesterday with members of the Fibre Arts Network (FAN) who have been in residence at Odell Park this past two weeks. Jackie has been working on embroidery (see her Instagram page); Caroline is a (rug) hooker (see her Instagram page); Karen is a weaver (see her Facebook page); and Renata is working on textile design (see her website). Another member, Darcy, is working on quilting, but we weren't able to connect with her in time (see her Etsy page).
We also include a couple of songs: Don't Get Me Started from Sleepy Driver's new album; and the song Heroes by Wicked Vices.
News update:
New Brunswick Public Health reported no new cases of COVID-19 yesterday afternoon.

A program offered by the province that aims to support and mentor women in apprenticeable trades has been extended.

One of the largest employers in McAdam is halting production at its gypsum wallboard plant by next month.

A judge in Saint John sentenced a Newfoundland man to three years in prison on Wednesday following child pornography charges.

Codiac RCMP is still on the lookout for a missing teenager from Moncton.

Thanks to a large research grant, staff from the University of New Brunswick will pursue 13 projects related to COVID-19.

Hockey New Brunswick chair Louis Gaudet says if all things go well, young players could be back on the ice by October.

And northside residents can go for their much-needed Tim's run without significant delays.

Podcast: Play in new window | Download
Subscribe: Android | Google Podcasts | RSS