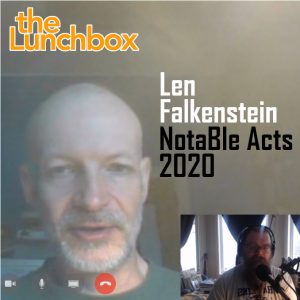 On today's show:
It's a summery day, so here's menu: Hot Dogs, Mango, Crême Brulée, and Penuche Fudge, and relax on the Hammock later…
Lots of music this week:

Peter Hanson and Andrew Kenney will be playing at Charlotte Street Arts Centre on Thursday night at 7:30pm.
Halifax Pier will be playing on the stage at Dolan's Pub on Thursday, Friday and Saturday of this week at 10pm.
Pallmer will be at The Tipsy Muse Café on Friday night at 7pm.
Maniac Mansion will be streaming shows by Mangler (Friday) and Which Witch Is Which (Saturday) at 9:30pm each night.
This Sunday, we get another Bluegrass Brunch at the Cap with The Montgomery Street Band, with treats provided by The Tipsy Muse Café, starting at 11am.
Living Roots has announced a shorter-but-intense August Series on August 13, 14, 15 and 16.

East Coast Amusements will be opening again for a second weekend starting on August 23. So, ride the rides!
NotaBle Acts is set to provide you with a brand new live theatre season!

Taking It To The Streets – Five 10-minute players – July 23, 25, 29, 31 – 7pm – Barracks Square
Space Girl – Featured Play – July 24, 26, August 1 – 7:30pm – online
Bluebirds – Featured Reading – July 26 – 2pm – online
One Act Plays 1 – Myrtle // Samantics // Every Apple in the Orchard – July 26 – 2pm – Open Space Theatre
One Act Plays 2 – Out of Water // The Kelpie – July 30 – 7:30pm – Open Space Theatre
One Act Plays 3 – Wrack and Ruin // Everything Is Here – August 1 – 2pm – Open Space Theatre

To celebrate the beginning of Notable Acts, I'm bringing back my chat with Len Falkenstein from earlier this month. I also went back in the archives to find a local author interview with Keith Lyons in 2015, but it wasn't me asking the questions, but Chris Waddell (former host of The Crazy Train and Music Director).
News update:
New Brunswick Public health reported no new cases of COVID-19 yesterday afternoon.

After a temporary outage across the Maritimes, cell phone and landline services have been restored.

New Brunswick Premier Blaine Higgs expects New Brunswick's Atlantic bubble to expand into two Quebec communities.

Fredericton Police say a 45-year-old man is in critical condition after being struck by a vehicle early yesterday morning.

A home on Albert Street suffered minor exterior damage after a mishap involving a barbeque yesterday afternoon.

Researchers from the University of New Brunswick are working on a device to test for COVID-19 within minutes.

Front line police officers in Saint John will be equipped with body cameras by November of this year.

A Fredericton business owner is hoping to fill the void made by the recent closure of boom nightclub.

And American rapper Nicki Minaj announced on social media earlier this week she is pregnant for her first child. 

Podcast: Play in new window | Download
Subscribe: Android | Google Podcasts | RSS