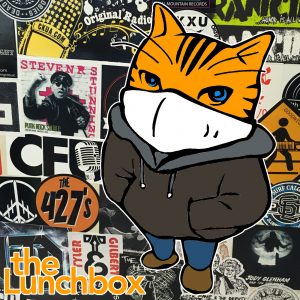 On today's show:
We are all incredibly dependent on a group of folks most of us never see or even interact with — unless something has gone wrong! So, three cheers for System Administrator Appreciation Day!
Learn about the theora, the theremin, the waterphone or other weird sounds for Uncommon Instrument Awareness Day! Make some noise!
Saturday is Planner Day and World Wide Web Day, so learn about bullet journalling and GIT philosophy. Or make a plan for the end of summer.
Tonight, you can support some great causes and experience poetry in multiple languages at the Any Language Poetry Night being held at 7:30pm at The Tipsy Muse Cafe or streaming online. Funds raised 

will be split evenly between Black Lives Matter Fredericton/NB and Water First, an organisation that helps provide clean water to first nations communities in Canada. 



The Frequency Duo

will be playing on the stage at

Dolan's Pub

on

Friday and Saturday

of this week at

10pm

.

NotaBle Acts Theatre Festival is wrapping up this weekend, with the last Taking It To The Streets performance at 7pm tonight in Barracks Square, the third One Act Plays performance at 2pm on Saturday at The Open Space Theatre and online, and the final performance of Space Girl on Saturday night at 7pm online.
The Delta Drive-in continues tonight at 7:30pm with The Wedding Singer.
And don't forget that Monday is New Brunswick Day! While we aren't going to be gathering outside, we can gather online at 7pm to watch a celebration with surprises from around the province, including performances by: Chloé Breault, Sacred Wolf Singers, Jamie Comeau & the Crooked Teeth, Bleum ,The Hypochondriacs, Les Hay Babies and David Myles. 

Watch this unique show, August 3rd, from 7:00 p.m. – 9:00 p.m., on

www.YouTube.com/AREA506

;

www.Facebook.com/Area506Fest

or

www.Area506.ca

I got the great chance to brave a thunderstorm and talk about the re-creation of historical photography techniques with Sarah Sarty, who is going to be working in the Botanic Garden in residency.
And earlier this year, Cat Leblanc visited the CHSR studios to talk about her debut album, Blue To Blue. From that EP, we get to hear the title song as well as Side of the Road.
News updates:
The provincial government is expanding the New Brunswick bubble to include certain communities in Quebec.

An Air Canada flight from Fredericton to the Magdalen Islands was forced to make an emergency landing in Halifax Wednesday afternoon.

The men's soccer team at St. Thomas University announced its first new addition to the 2021 roster.

The Blackville RCMP is asking for the public's help in locating a stolen backhoe from Renous.

A Saint John man was back in court yesterday morning after being wanted on a Canada-wide warrant for second-degree murder.

Frederictonians worried about missing their BBQed ribs are in luck as the new Freddy Beach Drive-Thru Ribfest sets up shop on the August 21 weekend.

And the Prime Minister says he didn't know that WE Charity was selected to administer the Canadian Student Service Grant.

Podcast: Play in new window | Download
Subscribe: Google Podcasts | RSS