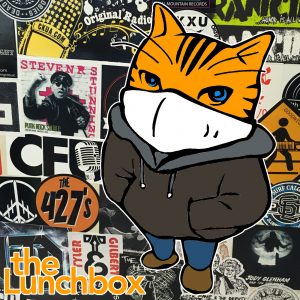 On the show:
Time to treat yourself: it's both Creamsicle Day and Tattoo Removal Day.
And remember that this weekend is National Acadian Day! Bonne fête!
Lots to do this weekend:

The New Brunswick Summer Music Festival has gone online this year, and has it's last performance on Saturday night at 7:30pm: Potpourri!: A selection of musical tidbits from festivals and Gala concerts past- a variety of artists you will love to see again.
Enjoy GIN & JAZZ with music by Bridge at the Southside Shake in side the Hilton Garden Inn downtown from 7pm to 9pm on Saturday night.
There's a special screening at the Delta Drive-in this Sunday night at 9pm called Repaving The Long Road Home.This Drive-In screening hosted by the Adoption Council of Canada showcases stories from filmmakers aged 13 – 29, exploring their experiences in foster care, with birth families, customary care, kinship care, adoption and/or aging out of care.

Following the screening will be a panel discussion recorded by Youth Speak Out members aimed at educating legislators, policymakers, social workers, family court lawyers and judges, potential adoptive families, and other decision-makers what it's like to be in foster care and why they need families who will stick with them long after they turn 16, 18, and 21.

Limited to 50 cars, reserve your space today: https://bit.ly/2DvZJ5L

The first of the new Northside Creators Market at Picaroons Round House is set to open on Saturday at 8am, staying open until 2pm. If you've been missing your favourite creatives from the market that closed earlier this year, this is the place! 15 vendors are set to be there on opening day. Since it is indoors, masks will be required.
The Fifth Wall (a Social Distancing Project) has one more performance on Saturday night at 6:30pm at the Vanier Hall Parking lot at STU. You are asked to please bring your own chair.

Space is limited to 50 audience members per night so RSVP is recommended! 

RSVP/send E-Transfer to:

nastyshadows [at] gmail [dot] com
And The Living Roots Festival 4.5 continues this weekend with the (sold out) show on Saturday at 3pm with Wicked Vices // Colourful Language // Atlas at The Cap; Saturday night at 7pm at The Tipsy Muse with Kristen Martell // Christian Howse; The Walking Contradictions at Grimross Brewing at 8pm; and Sunday features the Roots & Soul Showcase from 11am-3pm at The Cap.

Since we're on the verge of welcoming students back to campus (and they should be arriving around now), I thought I'd remind folks of some of the clubs on campus. I spoke with folks from the Pre-Law Society and The Debate Society in 2018.
News update:
New Brunswick Public Health reported two new cases of COVID-19 on Thursday.

Talks are expected to continue today between Premier Blaine Higgs and the province's three opposition parties.

Talks about the upcoming school year are bringing some changes to bussing and a new essential item.

Indigenous Services Minister Marc Miller says Indigenous peoples and leadership should be credited for limiting the spread of COVID-19.

A Sackville man has received a total of eight charges after police searched a home in the region on Tuesday.

A Fredericton man was sentenced to almost two years of jail time after a brutal attack that shattered his girlfriend's face.

Approximately 60 homes in Hanwell are under a boil water order after officials conducted a routine sample to find coliform bacteria.

And a prominent name in the global theatre community is becoming the hero everyone needs.

Podcast: Play in new window | Download
Subscribe: Android | Google Podcasts | RSS