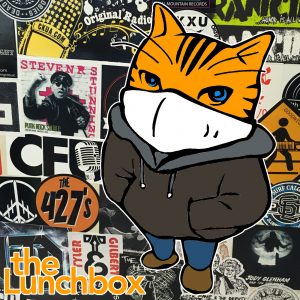 On today's show:
Given that Symphony NB has just announced a fall series of performances, including one by Andrew Miller with a performance in front of a silent movie, I thought I'd give you a listen to when I spoke to him and Nadia Francavilla about the time they did this with the classic The Cabinet of Dr Caligari in 2016.
And to mix mediums exquisitely, I brought out my 2018 interview with Cathy Holtmann about her project called PhotoVoice.
It was Cherry Turnover Day, so it's time to get out the pastries! But don't eat them over your computer, even if it is Crackers Over The Keyboard Day. Trust me on this…
Saturday will be More Herbs, Less Salt Day, so you'll be healthier in no time!
Sunday is Frankenstein Day, so be prepared to make a collection of things into an artistic mess you may regret.
The Enbicon Gaming Convention has opening up player registration for this year's online, virtual event coming up on September 25-27.
This is perhaps the last night for the Delta Drive-in, featuring The Shawshank Redemption tonight at 7:30pm. Get your tickets here!
Mike Bravener is performing tonight at 7pm at The Tipsy Muse Café. 

See the Facebook event for more details.

Certified will be on stage at Dolan's Pub tonight and Saturday night at 10pm.
This Saturday is Record Store Day! Show your support for local record stores like Backstreet Records and The Cap, and enjoy Heat $heets at The Cap Patio at 6pm. 

See the Facebook event for more details.

This weekend, join Alison Taylor for the launch of her debut novel Aftershock at Westminster Books, Sunday afternoon at 2pm.

"Shared trauma has driven them a world apart; they will need to find each other again to begin to heal. Nightmares still haunt Chloe thirteen years after a fatal tragedy led to the disintegration of her family. Her mother, Jules, has a busy tech career, a long history of chronic pain—and little time for Chloe. After Chloe drops out of university to travel for a year, Jules' OxyContin dependency quickly worsens.Aftershock follows their parallel journeys: Jules struggles to regain control of her life, while Chloe, after a rocky visit with her estranged father in New Zealand, resolves to go off the map and spend some time alone, travelling. When Jules suddenly can't find her daughter, the feeling is all too familiar. Mother and daughter will need to address old secrets and the emotional impact they have wrought before they can reconcile with each other, and, finally, with themselves."
News updates:
There were no new cases of COVID-19 reported by New Brunswick Public Health yesterday afternoon.

Residents who travelled on Air Canada flight 8918 from Toronto to Moncton on Aug. 14 are being asked to self-isolate for 14 days.

Provincial party leaders were back on the campaign trail with many promises to undecided voters.

Parents are learning more about the province's plan to bring high school students back to the classroom.

A bail hearing for a Saint John man charged with second-degree murder has been delayed until next week.

Starting on Sept. 1, shoppers at Atlantic Superstore must wear a face mask.

According to a new study, over 200 Canadian TV and radio stations could go off the air over the next three years.

And the Quebec Major Junior Hockey League released a statement last night pledging full support for the Black Lives Matter movement.

Podcast: Play in new window | Download
Subscribe: Android | Google Podcasts | RSS