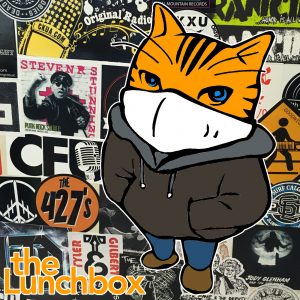 On today's show:
On the food front, lots to celebrate today: Egg Day, Beer and Pizza Day and Moldy Cheese Day. Two of those are divine. The other is for… others to enjoy.
It's also Fire Prevention Day, although it's really Fire Prevention Month. Or, as I like to think about it: "Let's not start fires we shouldn't want."
And finally, it's World Post Day. Write a letter to someone. No, not an email. A real letter. As in, pen or pencil on paper. Your own words, your own handwriting, your own thoughts. Send it in the mail. Imagine what it would be like to get that yourself!
Saturday is World Mental Health Day and World Homeless Day. The world is a tough place for all of us right now, but remember that there are those for whom the world has been even tougher, and will continue to be tougher, and for longer. You can help. Find organizations to give money or time to, and give thought and kindness where you can.
It's also SHIFT10 Day on Saturday, which suggests that you need to take care of your own community right around you by doing something really simple: spend 10% of your purchases right here. Buy a gift, go out to a restaurant (or order takeout), get that something you've been eyeing for a while for yourself. Do it here, and it stays here.
Sunday is Coming Out Day. This would normally be Thanksgiving weekend; well, alright: it still technically is, but normally we'd be gathering in our family or friend groups for a meal and shared time. That plan has been put on hold for the moment, but you can still reach out to friends and family, and be aware and supportive if someone tells you who they really are on Sunday.
And finally, Monday is Thanksgiving Day. This year, perhaps more than ever for this generation, we need to give thanks for what we have, and appreciate everything. We now know how easily it can change, and what we will miss when it's postponed. It's also Native American Day in the United States, but I think we can also acknowledge the heritage and history of the native peoples in New Brunswick, and pledge to work together to make life better for all of us.
In 2017, I was joined in studio by musicians and friends touring under their own performances and the band name of Inland Island. Despite being from far-away Montreal, we discovered a mutual acquaintance, showing just how close we really are. From the album released in 2016 called Zsa Zsa's Window Opens Slowly, we'll also hear Rake and Family.
And the latest Real Life Survivor that we spoke with is Karen Richardson, in the winter of last year.
Events:
A reminder: masks will be required in all indoor events, as we act in safety and prevention to keep COVID from spreading.
Homegrown are playing at Dolan's Pub tonight and Saturday night at 9pm.
Gin & Jazz with music by Bridge will be happening on Saturday evening at 7pm at Southside Shake in the Hilton Garden Inn, downtown on Queen St.
Braden Lam will be holding his album release party at Grimross Brewing on Saturday evening at 8pm, alongside with Atlas.
There will be an artisan's market at Kings Landing on Saturday from 10am to 5pm. Rain date is Sunday.
Food at the Ex continues this week, with 9 vendors! Open on Fridays from 11am to 7pm, Saturdays from 9am to 4pm, and Sundays from 10am to 4pm.
The North Side Creators Market will be open as usual this Saturday from 8am-2pm at Picaroon's Round House. Remember to spend at least 10% of your whole purchases locally!
And with another weekend comes another chance to find yourself Attending The Apocalypse! The presentation at the UNB Art Centre (Memorial Hall) is open on Sunday from noon to 5pm. Remember: you must book a time ahead of time, as only 4 people will be allowed into the exhibit at a time, and for only 20 minutes at a time. Entrance is free, however.
News update:
Premier Blaine Higgs announced yesterday face masks are now mandatory in all indoor public spaces starting today.

Testimonies within the Matthew Vincent Raymond trial were on hold until this morning.

It's a good time to replace those smoke alarms in your kitchen with this year's National Fire Prevention Week.

A man from Moncton has been charged with attempted murder after a shooting incident in Dieppe last November.

Blood donors are wanted ahead of the Thanksgiving long weekend this year.

Fredericton is reopening two of its arenas to allow limited public skating and walking tracks for the first time since COVID-19.

Moonshine Creek Distillery announced it will release Chicken Bones Liqueur for the 2020 holidays.

And Netflix subscribers are about to pay a couple of dollars more to stream their favourite originals.

Podcast: Play in new window | Download
Subscribe: Google Podcasts | RSS