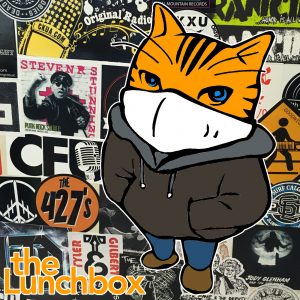 On the show:
It was World Standards Day on Wednesday, so I hope you made sure all your rulers are the right length.
It was originally to be the opening night for Herbert The Cow's new production, Know Brunswick?, but it was moved to next week. Nonetheless, here's a taste of what you can be prepared to expect — or rather, to expect the unexpected! I spoke with Corinski Nowlan of HTC and Scott Shannon of Nasty Shadows Theatre when they collaborated for the socially-distanced theatre show this summer, called The Fifth Wall.
And a new exhibit called A Terrible Beauty and the musical accompaniment FLOW in 2018 was a great opportunity to talk with UNB's Maria Maltais.
The Silver Wave Film Festival is virtual this year! From November 5 through 11 you'll get a chance to indulge in a plethora of local films from the comfort of your own chair. See the website for more details.
Solo Chicken Productions is hosting a series of online workshops for theatre performers and other performing artists called GROUNDWORKS from October 16 through 18.
Theatre New Brunswick is hosting a series of online Festival of New Plays from October 15 through November 26. To see the full schedule of events and a list of participating playwrights, visit the festival website. All events are completely free of charge. Donations welcome. In the immediate future, Wildly Romantic by Norm Foster was presented on October 15 at 7:30pm, and Blue Birds by Vern Thiessen is coming up on October 18 at 2pm.
This weekend, you can get a little spooked by heading to the Sleepy Hollow Haunted trail in Keswick. Full COVID-safe protocols will be observed, including masks, social distancing and small groups. This is a HIGH SCARE event, so no little ones. Tours will be on schedule at the appointed time; this year appointment times are given from 7pm to 10pm. Walk-ins are welcome after 10pm; this event will not close until everyone has gone through. Book now by messaging or call 440-5431. 

See the Facebook event for more details.
News update:
New Brunswick Public Health has declared another COVID-19 outbreak at a special care home in Campbellton.

Jurors in the Matthew Vincent Raymond trial are reviewing audio recordings of conversations between Raymond and police.

With a rise in COVID-19 cases across the province, face masks are now mandatory at all times on Fredericton university campuses.

The New Brunswick RCMP says an anti-mask activist from Ontario will make a court appearance in January after being arrested on Friday.

The City of Saint John is taking steps to offer ride-hailing apps like uber by next year.

The New Brunswick RCMP is reporting a recent increase in fraudulent phone calls.

Applications are now open for the federal government's Canada Recovery Benefit.

And Johnson & Johnson has put its clinical trials for a COVID-19 vaccine on hold.

Podcast: Play in new window | Download
Subscribe: Google Podcasts | RSS