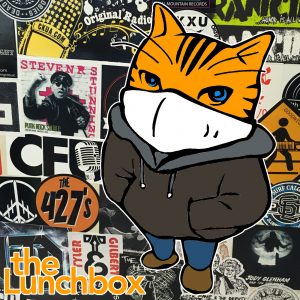 On today's show:
The fact that it was World Food Day has much more than just what's for dinner. We need to consider how our food gets to us, and gets to everyone fairly.
It was also Department Store Day, which we can all celebrate by… Well, I'm not sure, but probably not by going to a department store, anyway.
This was also a day to remember an icon. It's hard to argue that Steve Jobs didn't have a great impact on our modern world.
Saturday is going to be Spreadsheet Day, so Let's. Get. Ready. To. CALCULATE!
More importantly, this weekend includes the International Day for the Eradication of Poverty. Donate to a food bank, support initiatives for affordable housing, consider arguments for universal basic income.
Along those lines, we revisit my talk with Kelsey Rusk in 2017 about the 50th Anniversary of Meals on Wheels.
And I had a great talk with Sarah Sarty this summer about her rediscovery of old photography techniques.
Finally, because I had some time, I brought forward a pick from Bondo from last year: Hey Major with Brother.
The Silver Wave Film Festival is virtual this year! From November 5 through 11 you'll get a chance to indulge in a plethora of local films from the comfort of your own chair. See the website for more details.
Solo Chicken Productions is hosting a series of online workshops for theatre performers and other performing artists called GROUNDWORKS from October 16 through 18.
Theatre New Brunswick is hosting a series of online Festival of New Plays from October 15 through November 26. To see the full schedule of events and a list of participating playwrights, visit the festival website. All events are completely free of charge. Donations welcome. In the immediate future, Wildly Romantic by Norm Foster was presented on October 15 at 7:30pm, and Blue Birds by Vern Thiessen is coming up on October 18 at 2pm.
This weekend, you can get a little spooked by heading to the Sleepy Hollow Haunted trail in Keswick. Full COVID-safe protocols will be observed, including masks, social distancing and small groups. This is a HIGH SCARE event, so no little ones. Tours will be on schedule at the appointed time; this year appointment times are given from 7pm to 10pm. Walk-ins are welcome after 10pm; this event will not close until everyone has gone through. Book now by messaging or call 440-5431. See the Facebook event for more details.
Don't forget you can still Attend The Apocalypse this Sunday at Memorial Hall, UNB Campus to see these two presentations: Elysium, by Janice Wright Cheney exploring the symbolic power of mushrooms and the potential for mycelia to reshape our society; and Scratchcards for the Apocalypse, Jennifer Lee Weibe explores language and our understanding of content in a series of canvases painted with tweets made by Donald Trump since 2015.
Prepare to laugh with Comedy Night with Jimmy MacKinley & Paul Lewis at The Charlotte St Arts Centre at 7pm (doors open by 6pm)
Maxwell's presents Dinner and a Show with "Let's Fall In Love" – a quarantine love story. Saturday night at 5:30pm.
Music this weekend:

Chris Mercer at The Royal Canadian Legion on Friday at 6pm
Elm City String Quartet at Christ Church Cathedral on Friday at 7pm
Quinn Bonnell at The Tipsy Muse Cafe on Friday at 7pm
Halifax Pier at Dolan's on Friday and Saturday night at 9pm
Dead Unplugged at The Tipsy Muse Cafe on Saturday at 7pm
Anthony Gray at The Pickle Jar at the Hilton Garden Inn on Saturday and Sunday at 11am
Gin & Jazz at The Southside Shake at the Hilton Garden Inn on Saturday at 7pm
Jon Hines at Grimross on Saturday at 8pm
Debbie Roy & Carla Bonnell Band at The Hollywood Star Room on Saturday at 9pm
No news update today.

Podcast: Play in new window | Download
Subscribe: Google Podcasts | RSS