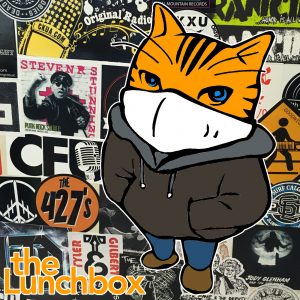 On today's show:
Go ahead and admit it: you've probably got a stuffed companion somewhere! And if you don't: today's a great day to get one! It's Plush Animal Lovers Day!
And if you're looking for something new to watch, why not consider something drawn from another country? It's International Animation Day, so give it a whirl, even if it's something domestic.
CONGRATULATIONS TO CHSR'S OWN ERIN BOND! Erin was recognized at Prix MusicNB Awards as the HARDEST WORKING PERSON OF THE YEAR for 2020! The ongoing celebration continues with Bondo's Pick of My Black Ram's Another Lover from their debut self-titled album.
We continue to look back at this fall's Word Feast, with the original founder of the feast, Ian LeTourneau, talking about Word Feast's Video Poetry Bash. We also feature one of the poets, Emily Scov-Neilsen, with a reading of her poem Painting Suburbia.
Today's extra music comes from one of my delights: Doom by Before The War.
Halloween in full effect this week!
Join Thaddeus Holownia for a discussion called A Love Affair With Looking on Thursday at noon, part of the NBCCD Advanced Studio Practice Free Guest Lecture Series. These noon-hour sessions celebrate the creative, cultural and academic achievements of artists, designers and fine craft practitioners. They are free of charge and open to the public. Watch the lectures on Zoom each Thursday at 12pm at this link: bit.ly/guest-lecture-series.
It's a theatre week!

Missed "Know Brunswick?" last week? No worries! It's happening at Maxwell's at The Crowne Plaza Fredericton-Lord Beaverbrook at 5:30pm on this Wednesday and next Wednesday. A blend of stand-up comedy, trivia, improv, and maybe a little serious scripted drama thrown in?! See the EventBrite event for more details and to get tickets.
The 2nd Annual Plain Site Theatre Festival is online this year from Wednesday, October 28 through October 31. This theatre festival aims to foster LGBTQ2+ talent and visibility. This years lineup of digital plays includes, readings, performances and workshops includes three new plays for this year, two plays adapted from last year, and two special productions.  See the Facebook event for more details.
TNB's Fall Festival of New Plays continues this week on Thursday, October 29 at 7:30pm with Caroline Coon's It Happened at a Party. It Happened at A Party focuses on the grey areas of sexual assault. Relationships and situations are complicated and are never as black and white as society makes them out to be. We begin with three young adults named Lexi, Ryan and Tyler as they drink and get ready to go out to a party. After much prodding, they convince their friend Camille to join them for a night of fun. Recently, she has been distant from the group after coping with tragedy but agrees to join them. The night goes on and Camille ends up in an uncomfortable situation. As she faces doubt from her friends and denial from her attacker, we are faced with the unfair experiences of sexual assault victims today. This play is intended to open difficult conversations and pave the way for a new reality. See the TNB page for full details. The Festival continues until November 25.

If you love taking beautiful photographs, you should join Photo Fredericton for their monthly meeting this Tuesday night at 7pm online. For more details, visit photofredericton.ca.
Music this week:

Matchstick Mike will be on-stage live on Friday at 7pm at The Tipsy Muse Café
Kylie Fox will play on stage at The Charlotte Street Arts Centre on Friday at 7pm, along with Jerry-Faye & Dylan
The Persuaders are at Dolan's Pub on Friday and Saturday nights at 9pm
News updates:
New Brunswick Public Health reported three new cases of COVID-19 yesterday afternoon.

Matthew Vincent Raymond took the stand at his own trial yesterday where jurors learned he considered shooting more people.

Like most things this year, the annual poppy campaign will look different due to the COVID-19 pandemic.

The New Brunswick RCMP says New Brunswickers now have to option to give legal statements while holding an eagle feather.

Fredericton-based company LuminUltra has filed a patent for its rapid early detection COVID-19 test.

The Maritime Hockey League (MHL) has released its regular 40-game season schedule for the upcoming year.

And residents living near Base Gagetown might hear some more noise than usual today.

Podcast: Play in new window | Download
Subscribe: Google Podcasts | RSS