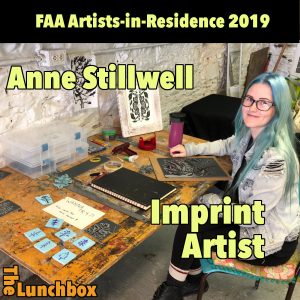 Some art is by its very nature, indirect, with the artist doing all the work before they know what the final product is going to look like.
My guest today is Anne Stillwell, who creates negative images with linoleum panels to later print them onto paper with ink. It's clear that she has art in her very bones, but it took her some time to find exactly what art appealed to her the most.
During the summer, the Fredericton Arts Alliance brings a pair of artists together in the Barracks to practice their art for all to see. These artists come from a wide variety of disciplines, from painting and sculpture to basket-weaving and writing. As each pair of artists comes in, we'll be talking to them on the Lunchbox.

Podcast: Play in new window | Download
Subscribe: Google Podcasts | RSS