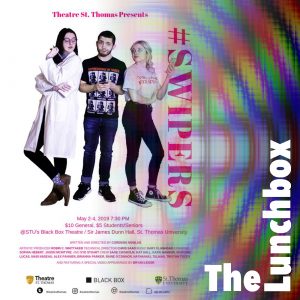 What is theatre when you don't know anything about it? Well, you're just going to have to watch it to find out!
My guests today are Corinski (playwright, director) and Nate (script supervisor, actor). Corinski has written a new play called #SWIPERS which is about.. Well, let's just say that it starts by being a modern rom-com, and then becomes.. something. Listen as we reveal nothing of the mystery of this experimental play, aside from the fact that it may — or may not — be experimental.
And then Star Wars is mixed in.. somehow.
#SWIPERS opens May 2nd and runs at 7:30pm nightly until May 4th at the Black Box Theatre at STU.

Podcast: Play in new window | Download
Subscribe: Android | Google Podcasts | RSS