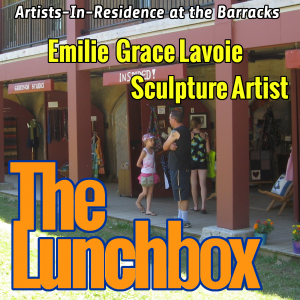 Art can be the imagination that tells us the truth about the world by showing it as it isn't.
During the summer, the Fredericton Arts Alliance brings a pair of artists together in the Barracks to practice their art for all to see. These artists come from a wide variety of disciplines, from painting and sculpture to basket-weaving and writing. As each pair of artists comes in, we'll be talking to them on the Lunchbox.
My guest today is Emilie Grace Lavoie, a sculptural artist working with fabric to create organic, otherworldly creations. She talks about her process and inspiration, transforming bits of cloth and wet plaster into fascinating, unnerving beings that would be unsurprising only far beneath the hidden oceans.

Podcast: Play in new window | Download
Subscribe: Android | Google Podcasts | RSS