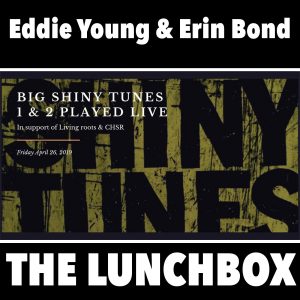 Nostalgia and music both provoke strong memories, so when combined, they form a superpower of awesome!
My guests today are Eddie Young (Living Roots Festival) and Erin Bond (Bondo from CHSR). They join me to talk about why tonight's CHSR fundraiser concert stands out so strongly.
The cover show of Big Shiny Tunes 1 & 2 starts tonight (April 26) at 8pm at Grimross Brewing Company. The show has sold out, but a limited number of tickets will be available at the door, for sale starting at 7pm.

Podcast: Play in new window | Download
Subscribe: Android | Google Podcasts | RSS