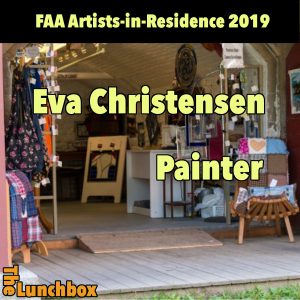 You may be called to make art multiple times in your life, for different reasons and for different purposes.
During the summer, the Fredericton Arts Alliance brings a pair of artists together in the Barracks to practice their art for all to see. These artists come from a wide variety of disciplines, from painting and sculpture to basket-weaving and writing. As each pair of artists comes in, we'll be talking to them on the Lunchbox.
My guest today is Eva Christensen, a painter who will be working on watercolour painting for the week of June 24. She describes her desire from a young age to pursue art, her uncertainty which led her away from it for a while, and the heartfelt return to it.
Transcriptions are being made of these interviews! Find the transcription of my interview with Eva on the FAA website.

Podcast: Play in new window | Download
Subscribe: Android | Google Podcasts | RSS