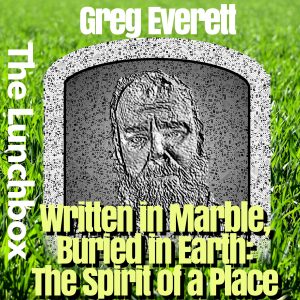 History is the story of people in a place, despite being often taught as a sequence of dates.
My guest today is Greg Everett, a local playwright. He's been working on uncovering the stories within the Old Burial Ground in downtown Fredericton, and transforming his interpretation of the history of the place and the people buried there into a narrative play. He's completed the primary writing on the work, which is titled "Written in Marble, Buried in Earth: The Spirit of a Place", and will be giving a reading at the end of the month. Greg joins me to talk about the wealth of discovery found when looking at this local landmark, and how that can be turned into a ghostly narrative to understand, explore and evoke the past.
Greg will be giving his reading of the play along with an explanation of how it developed at the Charlotte Street Arts Centre, May 31 at 7pm.

Podcast: Play in new window | Download
Subscribe: Google Podcasts | RSS