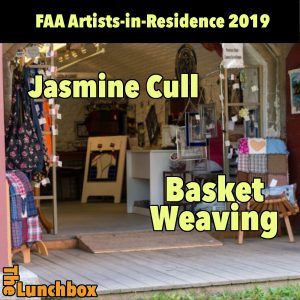 It's always astonishing to use a material like wood, through techniques and patterns not found in nature, to create forms and representations of nature itself.
During the summer, the Fredericton Arts Alliance brings a pair of artists together in the Barracks to practice their art for all to see. These artists come from a wide variety of disciplines, from painting and sculpture to basket-weaving and writing. As each pair of artists comes in, we'll be talking to them on the Lunchbox.
My guest today is Jasmine Cull, an artist who practices basketweaving, albeit not always to make baskets. She was at the Barracks making sculptures using basketweaving techniques, and combining natural materials as raw materials in other art constructions. She describes the practice of carefully bending wood, as well as the importance to see, experience and practice other art techniques.

Podcast: Play in new window | Download
Subscribe: Android | Google Podcasts | RSS