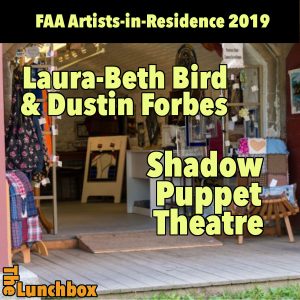 In a world of incredibly detailed computer-generated realism, sometimes it's good to remember that the imagination goes farther than realism could ever, and provides more meaning.
During the summer, the Fredericton Arts Alliance brings a pair of artists together in the Barracks to practice their art for all to see. These artists come from a wide variety of disciplines, from painting and sculpture to basket-weaving and writing. As each pair of artists comes in, we'll be talking to them on the Lunchbox.
My guests today are Laura-Beth Bird and Dustin Forbes, a puppeteer and a dancer working to create shadow puppet theatre around the combination of children's poems and the theme of trees. We talked about the kinds of puppetry that exist, the choice to do shadow puppetry, and the unique challenges and opportunities the medium offers.

Podcast: Play in new window | Download
Subscribe: Android | Google Podcasts | RSS