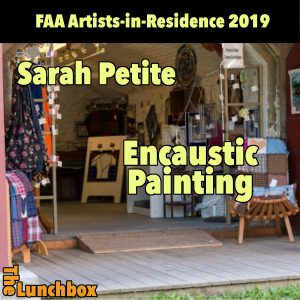 Right now, it often feels like everything is melting, but some people prefer melting for their art.
During the summer, the Fredericton Arts Alliance brings a pair of artists together in the Barracks to practice their art for all to see. These artists come from a wide variety of disciplines, from painting and sculpture to basket-weaving and writing. As each pair of artists comes in, we'll be talking to them on the Lunchbox.
My guest today is Sarah Petite, who practices encaustic painting, where beeswax is mixed with pigments and used as a combination of paint and sculpture. She tells me how encaustic painting works, how her practice has changed over the years, and the work that she's challenging herself with this week.

Podcast: Play in new window | Download
Subscribe: Android | Google Podcasts | RSS