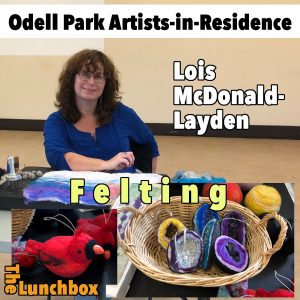 There are ancient techniques for creating art, many of which would benefit from a few modern tools to revitalize them again.
During the summer, the city of Fredericton is hosting numerous artists and crafters each week at the Odell Park Lodge, to practice their art for all to see. These artists come from a wide variety of disciplines, from painting and sculpture to basket-weaving and writing. From time to time, we'll check in with these artistson the Lunchbox to find out what makes their art move them.
My guest today is Lois Mcdonald-Layden, a felt artist whose remarkable creation include birds, landscapes and even felt geodes. She joined me to talk about how felting works, her process for getting details into unruly material, and the meditative craft of felting.

Podcast: Play in new window | Download
Subscribe: Android | Google Podcasts | RSS