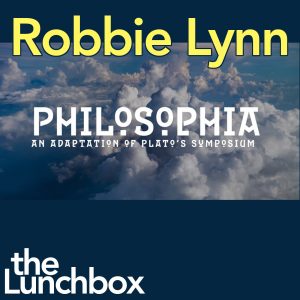 Great ideas in philosophy are often obscured the words chosen to represent them — but what if you could bring those words to life, given them people to breath them?
My guest today is Robbie Lynn, the playwright and director behind a new work adapting a philosophical work for an intimate stage setting, called Philosophia: An Adaptation of Plato's Symposium. Robbie joins me to talk about the beginning of an idea about sharing his love of philosophy with others, and demonstrating that its not as stuffy as the dry words might appear.
Philosophia is being staged for the public on two weekends, and in two different venues. This weekend, catch the play at The Abbey Café and Gallery at 7:30pm on October 26 and 4pm on October 27. On the following weekend on November 2-3, catch the performance at Yoga Above Aura at 7:30pm each night.

Podcast: Play in new window | Download
Subscribe: Android | Google Podcasts | RSS