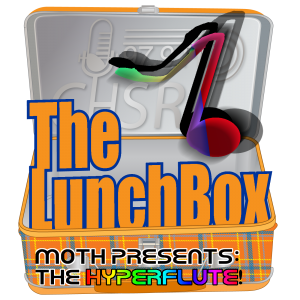 Have you ever looked at something and said to yourself: "I think we can change it?"
Cléo Palacio-Quintin certainly did! As a research project, she took a look at the venerable, traditional flute and said: "I can change that!"
She invented the "Hyper-Flute", a "standard Boehm flute (the model used is a Powell 2100, made in Boston) extended via electronic sensors that link it to a computer, enabling control of digital sound processing parameters while performing" (abstract).
Cléo Palacio-Quintin is holding two free events here on campus, one on Sunday and the other at noon-time on Wednesday, April 1. Sarah Beth Shiplett joined me and ("Hi, I'm") Fred on this edition of The Lunchbox to talk about the hyper-flute, the changing nature of classical instruments and the integration of multi-media into music.
Music today:
Embassy Lights sings us a tale from their self-titled album that could describe the wintery days all too well: Cold Skin.
And we are invited to go Down By The River by Sleepy Driver, presumably to watch the water rise and the Spring burst forth as the snow melts, not so we can meet someone named Ignatius who lives in a van..

Podcast: Play in new window | Download
Subscribe: Android | Google Podcasts | RSS