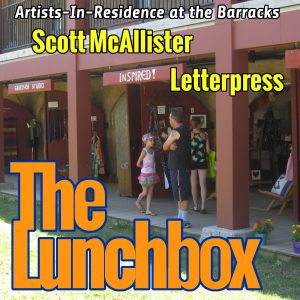 Technology once used to produce commercial art can gracefully retire to make an impression as higher art.
During the summer, the Fredericton Arts Alliance brings a pair of artists together in the Barracks to practice their art for all to see. These artists come from a wide variety of disciplines, from painting and sculpture to basket-weaving and writing. As each pair of artists comes in, we'll be talking to them on the Lunchbox.
My guest today is Scott McAllister, an artist exploring the use of a heavy-metal letterpress device to make art that is explicitly reproduceable and shareable. Scott muses about what attracted him to this physical medium, and how he wants to use the idea of currency to explore the current topic of the summer challenge: the river.

Podcast: Play in new window | Download
Subscribe: Android | Google Podcasts | RSS