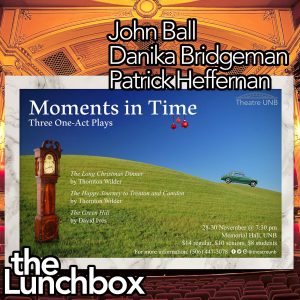 Look at the stage, see the world that isn't there, hold it in your mind, listen to the words the actors give you, draw your own scenes.
My guests today are John Ball (instructor, director), Danika Bridgeman (actor, costuming) and Patrick Heffernan (actor), all from Theatre UNB's upcoming production, Moments In Time. They join me to talk about the three, one-act plays falling under this show's banner: The Long Christmas Dinner and The Happy Journey to Trenton and Camden by Thornton Wilder, and The Green Hill by David Ives. They also share a scene from The Green Hill, and tell me about the Death Portal and the Birth Portal.
Moments In Time is being staged at Memorial Hall on UNB campus from November 28 through November 30, 7:30pm each night.

Podcast: Play in new window | Download
Subscribe: Google Podcasts | RSS