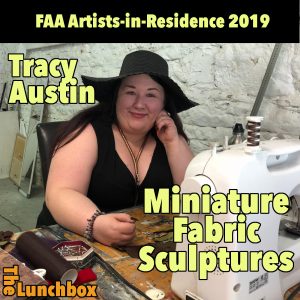 The power of the artist is to allow us to translate the ephemeral into the real, often from an outside perspective shared with the audience.
During the summer, the Fredericton Arts Alliance brings a pair of artists together in the Barracks to practice their art for all to see. These artists come from a wide variety of disciplines, from painting and sculpture to basket-weaving and writing. As each pair of artists comes in, we'll be talking to them on the Lunchbox.
My guest today is Tracy Austin, a fabric artist who specializes in miniature, doll-shaped fashion dresses that are as much sculpture as they are clothing. She joined me to talk about her current series of work based on displaying emotions and the weight of power, and the residency-specific work relating to the theme of trees.

Podcast: Play in new window | Download
Subscribe: Android | Google Podcasts | RSS