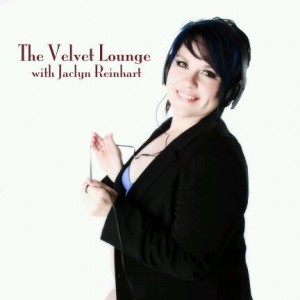 This month's show of the month is The Velvet Lounger with Jaclyn Reinhart:
1) What made you start your show?
I have always been told I have a radio voice, I love music and I'm funny so it seemed like a good fit. I worked in radio as an account manager and love the vibe of a radio station.
2) Tell us a little about your yourself?
I am a musician and a social networking butterfly. I am very outgoing, loud, put my foot in my mouth often, flitry, chubby cute and love life and I take chances because I believe we should only ever regret what we were too afraid to do.
3) Who would be your dream guest on your show?
Grace Potter
4) What made you decide to come to CHSR to air your show?
Tim Rayne roped me in 🙂  Also the staff at the station are so helpful and welcoming I really enjoy it.
5) Where do you see the show going in the future?
I think it could be syndicated around the east coast and who knows maybe I'll make it a talk show some day and feature live acts.
Follow on Twitter | Like on Facebook
*Due to our website technical difficulties in August, The Velvet Lounge will be the featured show of the month for September too.