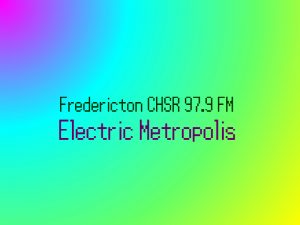 I am AD Springer, your musical tour guide, and I want to tell you a story; a story of a city so beautiful and wide. Where dreams are remembered and trust can be found. You can travel through the city and find computer love while killing time while looking up for the northern lights. A place where your heart can return to bounds from the great void and power up amidst the lights and sound of a city full of such wonderful sounds. It is here you can be intimate as the city is bathed in sunshine while viewing the test flights off of bliss port. Indeed, this is a city where you can know the lifebeat of a lilium and know that this is where you can find a field from which you wish to rise from as spiders dance their deadly dance. For all the many-fold wonders of the city, you can always find a way to stay human. This is The Electric Metropolis, come by for a visit while you can!
Tour Itinerary:
First Stop:
"Ai-sen renado*" by Renard off the album SHOUNEN BASS! TURBO
"Trust Me" by FWLR off the album Nick Is R8 Into Tha Techno
Synth District:
"Computer Love" by Vandal Moon off the album Wild Insane
"Killing Time" by The Trick off The Avalanche EP
"Northern Lights" by Woodes off the Golden Hour EP
Chiptune District:
"Return To Bounds" by chibi-tech off the album Psycho Somatic Generation
"The Great Void (Perihelion)" by Diad (a Heos x Tadpole project) off the album Diad
"Power Up" by Deadbeatblast off the Northern Bitmasters – Canadian Micromusic Compilation
Future Funk District:
"Intimate" by Digital Waves off the album Changes
"Sunshine City" by Desired off the album Timeless
"TEST FLIGHT AT BLISS PORT" by Crystal Cola off the album MACHINE CITY
VGM District:
"Lifebeat of Lilim" by Garoad off the album VA-11 HALL-A EX – Bonus Tracks Collection
"From This Field I Wish To Rise" by Ryan Ike off the album Where the Water Tastes Like Wine (Original Game Soundtrack)
"Spider Dance" by toby fox off the album UNDERTALE Soundtrack
Final Stop:
"Stay Human (feat. Chell P) [ogenki Remix]" Theodore West off the album Re: Human
*machine translated
Got any suggestions for future tours?

Podcast: Play in new window | Download
Subscribe: Android | Google Podcasts | RSS