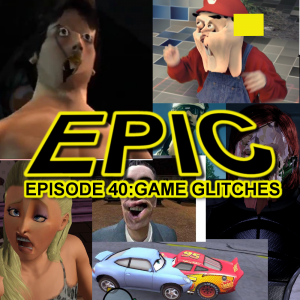 A look at some of the strangest, funniest, and most infuriating game glitches of all time.
Hosts
Show Notes
World of Warcraft – Death Knight Death Grip, throwing through to the center of the map

World of Warcraft – Joel's levitate trick shooting players off of the map.

Diablo Duping

Elder scrolls arena and daggerfall: open world, self creation bugs.

Elder scrolls 16 bitt rollover glitch.

Frag Mines in the path of AI in ??? That game with pip boy

The negative water world in Super Mario

Lost Girl App

Falling through the world

Spoony – falling through the worldin city of heroes

Stunt Track (or stunt driver): top speed glitch


Test drive glitch (pick up truck rockets over Andy)

GTA: Wondering cars in the woods

Bad pathfinding in games, Getting player caught in corners or doorways

Sherlock Holmes: Nemesis
[youtube=http://www.youtube.com/watch?v=13YlEPwOfmk]

Falling through the game, sure we have all seen this in a number of games.
Mortal kombat 3 Arcade, I used to play as Kabal all the time and each time I did a certain fatality the machine would freeze, make a loud bang and reboot.
WordPress Links
Corrections
If you noticed any issues with this episode and would like us to post a correction, email us here: epicchsr [at] gmail [dot] com or tweet us at: @epicchsr
Credits

Podcast: Play in new window | Download
Subscribe: Android | Google Podcasts | RSS