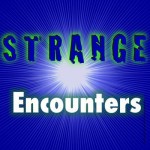 Have you ever had a STRANGE ENCOUNTER?
The WEIRD Show and P.R.O.F. (Paranormal Researchers Of Fredericton) present: STRANGE ENCOUNTERS!
March 30, 8pm until 11pm!
A three-hour tour through the paranormal, UFOs and cryptozoology!
Join us as we discuss demons, ghosts, ufos, bigfoot, Nessie and more! With special guests, including: Stanton Friedman, Nathan Schoonover, Alexandra Holzer, Loren Coleman and Jeff Belanger!
Share your Strange Encounters via email, phone or live on the night of the event. For full details, go to our Facebook page: facebook.com/StrangeEncountersCHSR