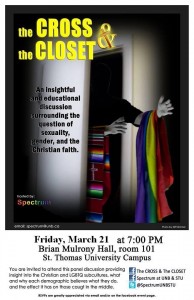 The world is a complicated place. Perhaps it has always been so, and individuals have always had to choose the compromises and integrations of the pressures of society, family, and your own sense of being. We think of ourselves perhaps in an enlightened age, but that only means that we can discuss these conflicts more openly. That is a great progress, but we still have work to do.
One of the conflicts that many people face are their personal feelings, morals and beliefs with that of a spiritual belief and collective faith. John Staples faced that a decade ago in his own life, and that drove him to find a reconciliation. He's still learning, but a recent story of a student forced to either leave his church or volunteer with the LGBTQ community brought it all to the forefront.
John is now the president of Spectrum at STU and UNB, and is hosting an event, "The Cross and the Closet", to start a dialogue, discuss what he's discovered, and share in spreading compassion, understanding and growth. He dropped by the Lunchbox to talk about where this came from, and some of the issues surrounding his life.
The Cross & The Closet is happening at 7:00pm on March 21 at Brian Mulroney Hall, room 101.

Podcast: Play in new window | Download
Subscribe: Android | Google Podcasts | RSS