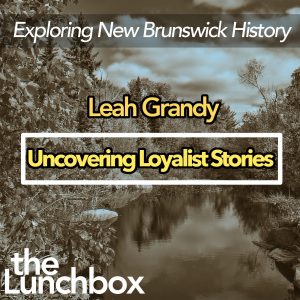 New Brunswick has long been a place of refuge, where people have come to find a new way forward.
My guest today is Leah Grandy, a Library Assistant in the Harriet Irving Library at UNB, where she works specifically with the Microforms library. She joins me to share the ongoing work she and her colleagues are doing to uncover the stories of the lives of Loyalist settlers in New Brunswick, particularly seeking out the lesser-known stories of the average people. You can see the Loyalist collection, including the Story Maps, at the library's web site.
How much do you think you know about New Brunswick history? Personally, I think we do a pretty bad job of teaching it, and most people don't embrace it. I'm on a mission to learn more, so I've invited a collection of historians to help me learn more about the legacies, the achievements, the battles, the inventions, the troublesome eras and the long past of one of Canada's oldest regions.

Podcast: Play in new window | Download
Subscribe: Google Podcasts | RSS | More